Wood Working Machinery Axminster



Wood working machinery Axminster. Leading supplier of new and used wood working machines for sale. Based in Central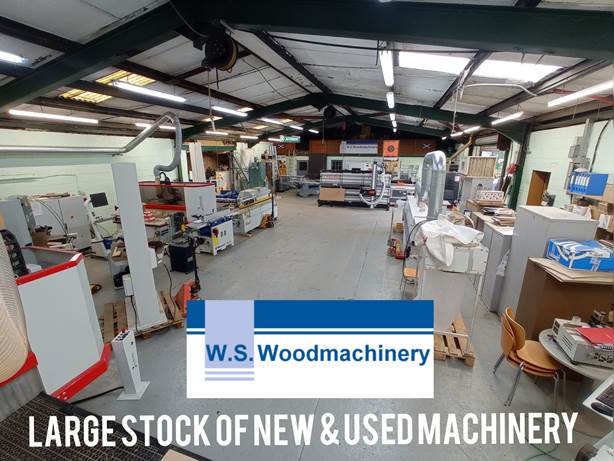 Scotland. Operating throughout the UK, Ireland and Europe. W.S. Wood machinery Ltd are specialists in the sale and maintenance of new and used wood working machinery. Partnering with only the best and most reliable suppliers of woodworking machines in the industry. Wide range of new and used machinery in stock. 
Price Notice: Please speak to us directly to confirm prices. Due to fluctuations in the Euro, prices are changing daily.
Expert wood working machinery technical team. Experienced in the installation, maintenance and servicing of new and used wood working machines. Call for information on our products. Visit us on social media. We can be found on Twitter, Facebook and LinkedIn.  Our Wood working machinery videos can be found on  YouTube.

Cosmec CNC Machines Open Bridge & Closed Bridge Fixed Table Routers
Rema Panel Saws - Rip Saws
Rojek Wood Working Machinery
CoMaFer Briquetting Presses
Italpresse Frame Clamps - Hot Presses
Salvamac Stop Pusher Saws
Wood Waste Technology Heaters
 Demonstration Machines

Book a machine demonstration. Telephone 01236 432 700
Click Here. When the new  page opens fill in the contact us  form. We will get back to you as soon as possible
Call For Special Offers
Enquire about our new and used wood working machines. Use telephone numbers listed below.
London – 07867 950 153 ● Coventry – 07795 309 669

Glasgow – 01236 432 700 ● Manchester – 0743 598 2288
Leading Wood Working Machinery Axminster Suppliers
Leading wood working machinery Axminster suppliers. W S Wood Machinery Ltd will do our best to beat any quote from competitors on all new and used wood working machinery. We aim to help you and your company grow. Our team can assist with finding the right wood working machines to fit your needs. Our advice is free, and you are under no obligation. Purchase from a wide range of new and used machinery, spare parts and tooling. Machinery training can be provided. 
Telephone 01236 432 700
Used Wood Working Machinery Axminster

W.S Wood Machinery.  New and used wood working machines can be purchased throughout the UK and Ireland. Your number 1 choice for wood working machinery. Our wide range of new and used wood working machinery is available to be purchased and delivered throughout England, Wales, Scotland and Ireland. We provide machinery installation, servicing and repairs to all regions in the UK and Ireland.
Why pay London Prices? If you need wood machinery and stay in Axminster give us a call. We could save you money and provide you with a better service.
  W S Wood Machinery LTD

Wood working machinery Axminster. Machinery for sale. Wide range of wood machinery on offer. Best brand names. 
eBay Showroom
We operate an auction store on eBay. Find a selection of used wood working machines we currently stock. Visit our store on eBay by clicking on this eBay Listings link. Please disable any ad blockers you have running, as this will interfere with the eBay widgets.
Used machinery trade-ins welcome: Reduce your costs.
We buy surplus used wood machines. Cost-effective. Helps free up space.
Wood Machinery Axminster

Wood machinery Axminster. Can't find what you're looking for? Over 50 Brands of new and used wood working machines unlisted in stock with new and used woodworking machinery. Equipment arriving weekly. Contact us today to discuss your needs and our latest stock!
Leading Wood Working Machinery Dealer Axminster

Leading wood working machinery dealer, UK, London, Scotland, Ireland, and Wales. Large selection of machines in stock. Save up to 60% on a quality used machine in Axminster. Free wood working machinery advice. Call now for the best deals. We buy used wood working machinery. Trade in used machinery for something newer and better. Contact Us