Wood Working Machinery, New And Used Wood Working Machines



Wood working machinery, New and used wood working machines for sale. Based in Central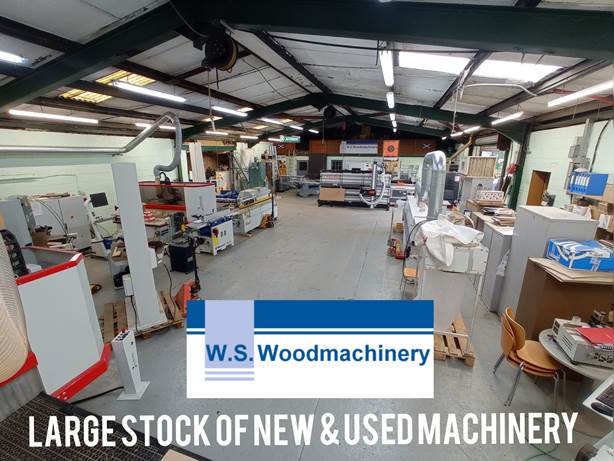 Scotland. Operating throughout the UK, Ireland and Europe. W.S. Wood machinery Ltd are specialists in the sale and maintenance of new and used wood working machinery. Partnering with only the best and most reliable suppliers of woodworking machines in the industry. Wide range of new and used machinery in stock. 
Price Notice: Please speak to us directly to confirm prices. Due to fluctuations in the Euro, prices are changing daily.
Expert wood working machinery technical team. Experienced on the installation, maintenance and servicing of new and used wood working machines. Call for information on our products. Visit us on social media. We can be found on Twitter, Facebook and LinkedIn.  Our Wood working machinery videos can be found on  YouTube.

COVID-19 Notice
W S Wood Machinery Ltd have put into place measures to protect our staff, clients and the public. Social distancing with additional safety and cleaning steps are in place to help protect and support everyone we have contact with.
Cosmec CNC Machines Open Bridge & Closed Bridge Fixed Table Routers
 Demonstration Machines

Contact us Book a machine demonstration. Telephone 01236 432 700
Click Here. When the new  page opens fill in the contact us  form.  We will get back to you as soon as possible.
Call For Special Offers
Enquire about our new and used wood working machines. Use telephone numbers listed below.
London – 07867 950 153 ● Coventry – 07795 309 669

Glasgow – 01236 432 700 ● Manchester – 0743 598 2288
Wood Working Machinery Price Quote Challenge
Call Now: We will do our best to beat any quote from our competitors on all new and used wood working machinery.
Telephone 01236 432 700
 

Products And Services
We aim to help you and your company grow. Our team can assist with finding the right woodworking machines to fit your needs. Select from a wide range of new and used wood working machinery. Training, spare parts and tooling can be provided. Wood working machinery rebuilding and reconditioning are also offered.
Used Wood working Machines
W.S Wood Machinery.  New and used wood working machines can be purchased throughout the UK and Ireland. Your number 1 choice for wood working machines. Our wide range of new and used wood working machinery is available to be purchased and delivered throughout England, Wales, Scotland and Ireland. We provide machinery installation, servicing and repairs to all regions in the UK and Ireland.
Why pay London Prices? If you need wood machinery and stay in any of the areas listed below give us a call. We could save you money and provide you with a better service.
New Wood Working Machinery For Sale
New and used wood working machinery for sale in England, including Bacup,  Bedfordshire, Berkshire, Bristol, Buckinghamshire, including Milton Keynes, Cambridgeshire, including Peterborough, Cheshire, Cheshire East, Cheshire West,  Chester, Coalville, Coventry, Halton, Hinckley, Horsham and Warrington, Cornwall, Cumbria, Derbyshire, including Derby, Devon, including Plymouth and Torbay, Dorset, including Bournemouth and Poole, Durham, including Darlington, Hartlepool, and Stockton-on-Tees north of the River Tees, Cottingham, East Riding of Yorkshire, including Kingston-upon-Hull, East Sussex, including Brighton and Hove, Essex, including Southend-on-Sea and Thurrock, Gloucestershire, including South Gloucestershire, Greater London, including the City of London, Greater Manchester, Hampshire, including Portsmouth and Southampton, Herefordshire, Hertfordshire, Kent, including Medway, Lancashire, including Blackburn with Darwen, and Blackpool.
Used Wood Working Machinery For Sale
Wood working machinery. New and used wood machinery for sale in Leicestershire, including Leicester, Lincolnshire, including North Lincolnshire, and North East Lincolnshire, Merseyside, Norfolk, North Yorkshire, including Middlesbrough, Redcar and Cleveland, York, and Stockton-on-Tees south of the River Tees, Northamptonshire, Northumberland, Nottinghamshire, including Nottingham, Oxfordshire, Rutland, Shropshire, including Telford and Wrekin, Somerset, including Bath and North East Somerset and North Somerset, South Yorkshire, Staffordshire, including Stoke-on-Trent, Suffolk, Surrey, Tyne and Wear, Warwickshire, West Midlands, West Sussex, West Yorkshire, Wiltshire, including Swindon and Worcestershire.
  W S Wood Machinery LTD

Wood working machinery for sale. Wide range of wood machinery on offer. Best brand names. 
eBay Showroom
We operate an auction store on eBay. Find a selection of products we currently stock. Visit our store on eBay by clicking on this eBay Listings link. Please disable any ad blockers you have running, as this will interfere with the eBay widgets.
 

Our Suppliers
Types of woodworking machinery
New and used woodworking machines for sale. If you are looking for a  bandsaw, bandsaws-wide / resaw, beam saw, boring machine, brush sanders, briquetting press/shredders, CNC machinery, clamping machines, cross-cut saws, carcass presses, combined universal machines, compressors, dovetailing machines, drilling machines, dust extraction units, dowell drilling and insertion machinery, dovetail key joint machines, edge banding machines, edge sander, extraction, edge trimming machine, feed units, grinders, guillotines, glue application, haunchers, hinge drill and insertion machines, heaters, joinery machines, lathes, lacquer, morticer, multi ripsaws, material handling, notching  haunching machines, overhead router, panel lifters, panel saws, panel thicknesser, panel moulder, platen press, press, re-saws, routers, ripsaws, sanders wide belt, surface planers, spindle  moulders, stair  trencher, saw/spindle  moulder, tenoner, thickness planer, tigerstep, timber frame and SIP machinery, universal machine, veneer machinery, wall saws, vertical panels, window and door machinery. Just give us a call.
Manufacturer / Brands
Wood working machinery brands include Altendorf, Aardvark Machinery, Aardvark Tooling Systems, ACM, Angelo Colombo, Azzurra, Amtool, Boere, Brandt, Barbaric, Comafer, Comil, Coral, Costruxioni Meccaniche, Dominion, E Chain, Framar, GMC, Graule, Harwi,Hirzi/Imaco, Hoffmann, Houfek, Holzher, Italpresse, Interwood, Lohemeyer, Martin, Maggi, Mortens,Morso,Osama, Orteguil, OMEC, OMAL, Putch Meniconi, Ramarch, Reignmac, Robland, RWT/ROJEK, Saomad, Salvador Cross-cut Systems, Sedgwick, Selco, Stenner, Striebig, Stromab, Swedex, Tigerstop, Transwave, Untha,Viet Italia, Vitap and Wood Waste Technology.
Used machinery trade-ins welcome: Reduce your costs.
We buy surplus used wood machines: Cost effective. Helps free up space.
Can't find what you're looking for? Over 50 Brands of new and used wood working machines unlisted in stock with new and used woodworking machinery. Equipment arriving weekly. Contact us today to discuss your needs and our latest stock!
Wood Machinery Dealer
Wood machinery dealer, UK, London, Scotland, Ireland and Wales